Mask wearing is an essential part of keeping the spread of COVID 19, however, it may come with some skin irritations for the general public. During summer, when temperature and humidity are high, wearing a mask could affect both our comfort and the health of our skin. There are two main ways face masks can damage the skin;; firstly, direct friction can lead to the skin barrier disruption, irritation and inflammation;; secondly, masks can trap oil, dirt and sweat on the skin, leading to flares of conditions such as acne, eczema and rosacea.
Skin irritations from rubbing, friction and pressure are likely to be exacerbated by sweat, which can make the skin more vulnerable to irritation like chafing in the summer. Besides irritations, reactions to the mask materials could also be developed. All of these can lead to problems in pore structure and congestion, blemishes, and excessive oil retention, which may lead to yeast overgrowth and a worsening of rosacea. If you have acne-­prone skin, eczema, or rosacea you are likely going to see acne breakouts under your face mask, as oil and sweat are trapped in the skin.
How to care for your skin while wearing a face mask? Here's a quick skin care routine to follow.
Wash your face thoroughly before and after wearing a mask -­ a gentle cleanser is ideal (the best fit from our skin care line would be the Nourishing Rosehip Cleanser or for acne-­prone skin the Probiotic Concentrate Charcoal Scrub, used as a cleanser not as a scrub). Gentle cleansing is particularly important because it removes natural debris, without affecting the antibacterial component, which creates an added barrier of safety.

Each time you remove the mask, cleans the skin, and apply a light moisturizer such as Oil Free Soothing Day Moisturizer.
If you have eczema or dry, sensitive skin, you may want to apply a heavier moisturizer in the form of a cream such as Ultra Hydrating Day Cream for the day and Nutritive Retinoic Night Cream for the night.
You can apply Vitamin C Anti-­Microbial Elixir Oil as a spot treatment for breakouts area, morning and/or evening.

Apply a light sunscreen lotion or cream, preferably a mineral-­based sunscreen containing titanium dioxide or zinc oxide.

For those wearing a cloth mask, make sure you wash the mask daily in order to minimize bacteria growths, which in turn can cause acne. Use regular detergent with no bleach as the bleach may breakdown some of the mask materials.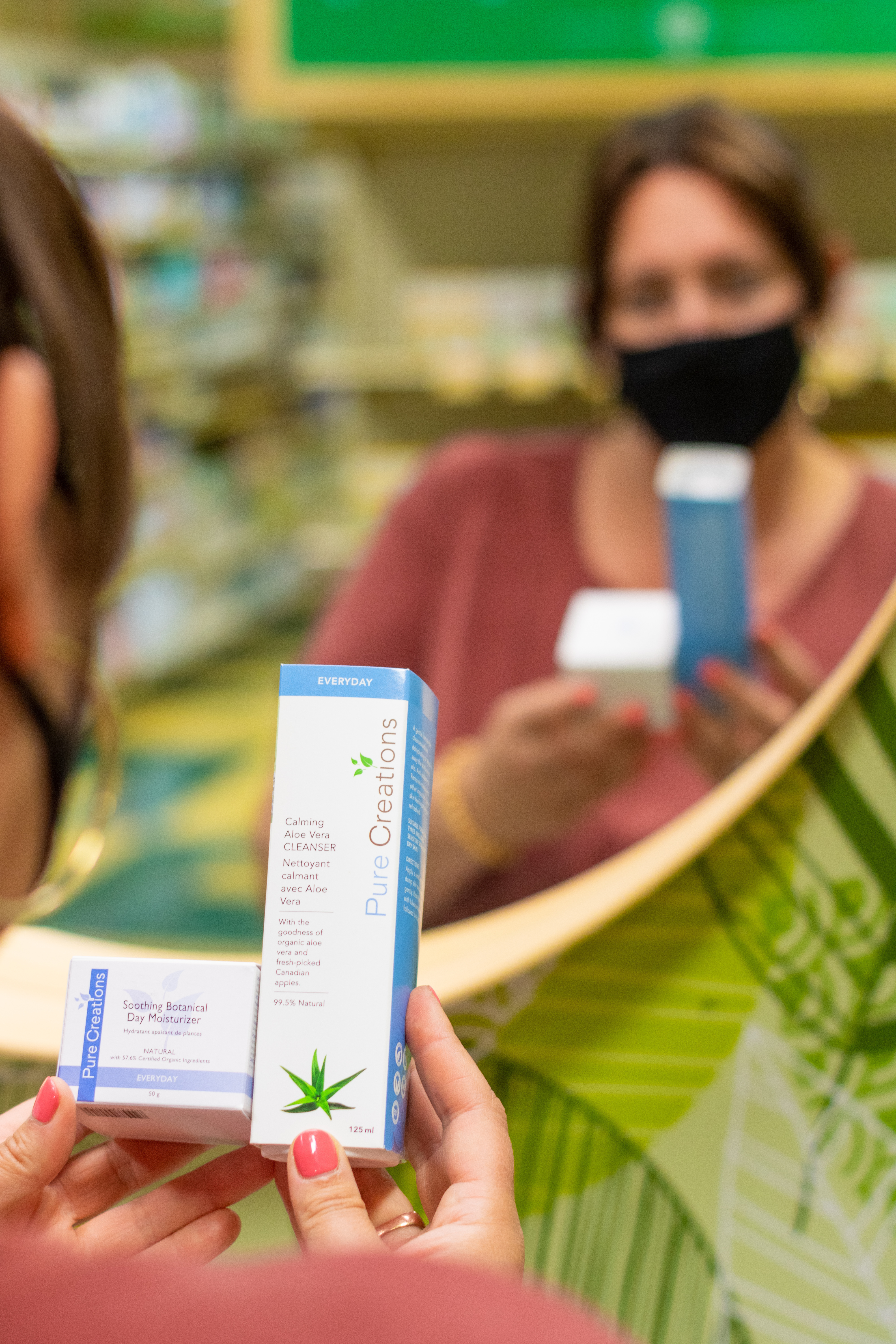 Can I wear makeup while wearing a face mask?
Is advisable that you skip wearing makeup under a mask; or try to keep your makeup to the bare minimum to allow your skin to breathe, especially when off duty.
Avoid wearing makeup or foundation under the mask. This may cause the skin to breakout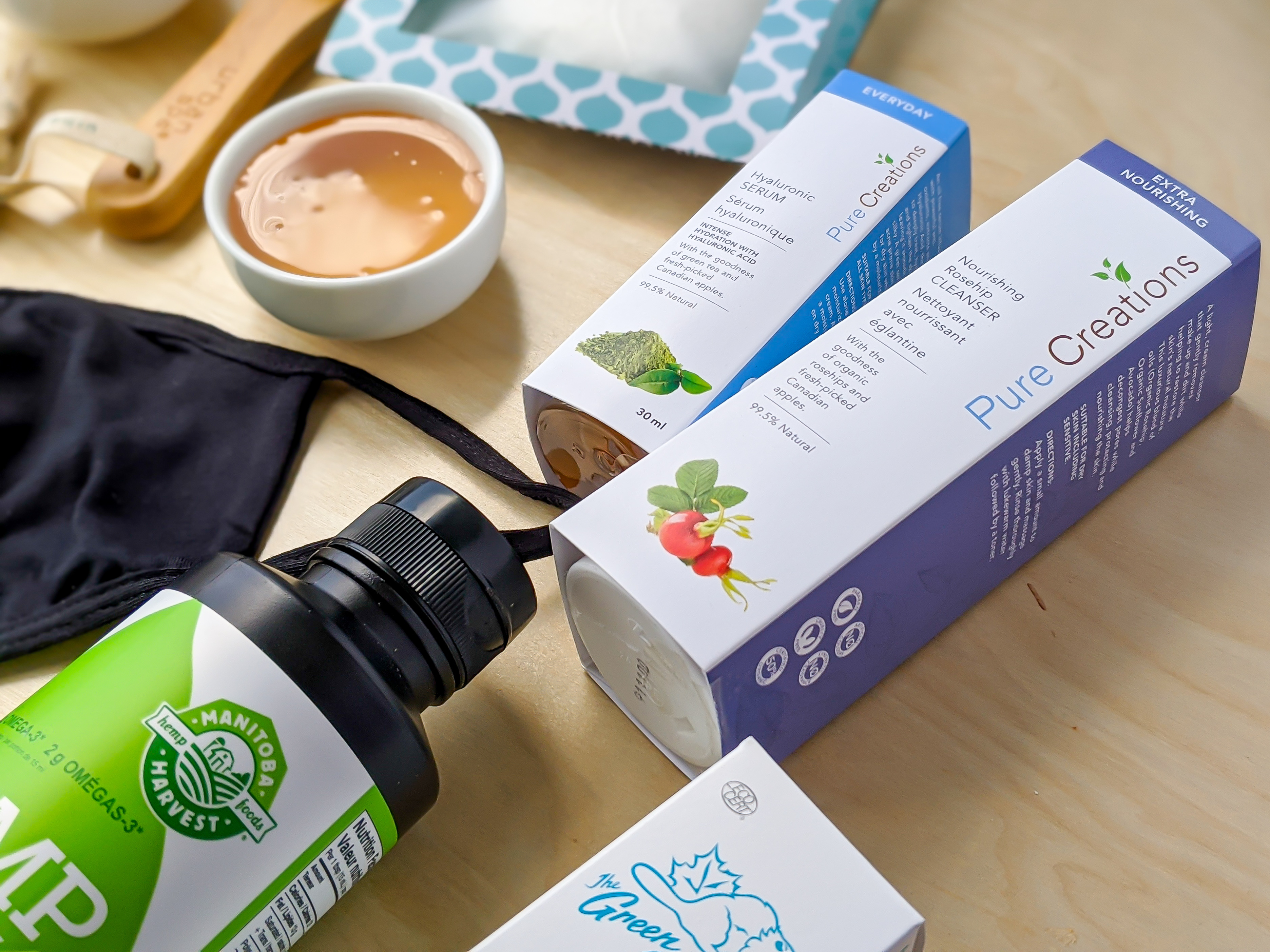 Here's a quick DIY using simple ingredients to take care of your skin while needing to use a mask on the daily basis:
If your skin is not raw or open damaged with a rash, you can use the following face mask once or twice a week :
1 table spoon honey mixed with 2-­3 drops of apple cider vinegar plus ½ tsp of oat flour.
Mix and apply to the face.
You can use plain Hemp Oil as a quick cleanser, or for very sensitive skin, mix with Honey (1 to 1 ratio). If you have blemishes, use a skin cleanser, as the skin requires vitamins, nutrients and active ingredients to help it bring to a normal ph. Do not use essential oils in any form directly on the skin.