Servings: 4

Prep Time: 15 minutes

Cook Time: 10 minutes

 

Ingredients

Dressing

Bunch of Raftery Farms basil

1 tbsp Drizzle Honey

1 tsp mustard

1 tsp sea salt 

1 tsp pepper

½ cup olive oil

¼ cup balsamic vinegar 

 

Salad

2 slices of Corbeaux sourdough bread

2 cups Deepwater Farms mustard greens

1 pint Mans Organic cherry tomatoes, cut in half

2 red peppers, halfed with seeds removed

10 asparagus spears

2 zucchini, cut in half length-wise

2 garlic cloves, crushed

3 tbsp olive oil

 

Instructions:

Dressing

Add all in ingredients to measuring cup and whisk to combine.

Set aside.

 

Salad

Pre-heat grill to high.

In a saucepan, heat the oil over medium on oven and stir in the garlic and heat for 1 minute.

Brush the bread sliced with the garlic butter and place to the side.

Toss red pepper, aspargus and zucchini in olive oil with the salt and pepper.

Place the peppers, asparagus, zucchini and bread on the hot grill. Grill the bread for 2-3 minutes total and grill the vegetables 3-4 minutes on each side (flip once).

Remove from heat and chop both the bread and the vegetables into bite size pieces.

Add the mustard greens and tomatoes to a large salad bowl and top with grilled vegetables and bread.

Add the dressing to the bowl and toss to combine.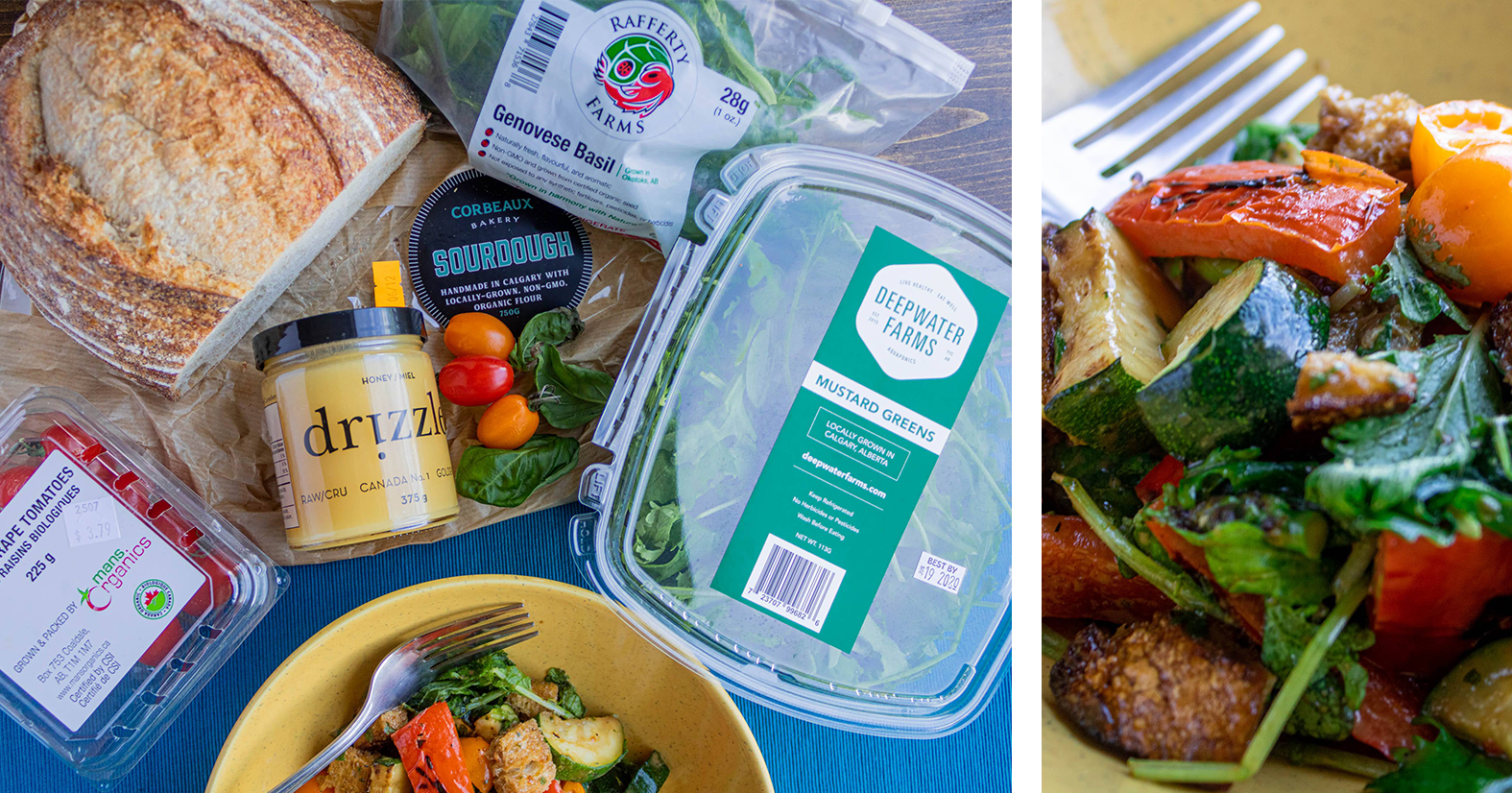 CNF Family Farms
It is our commitment to independent family farmers that choose certified organic and other growing methods that ensure the soil and planet health is of first consideration. As much as possible Community Natural Foods buys farm direct produce and other products from local and family run businesses. We seek relationship that are like-minded with our ideas and goals as a company and as trailblazers and trendsetters in the natural foods industry.
Man's Organics: Mans Organics is a family farm in Alberta near Coaldale, that produces both greenhouse and field crops, including the beautiful cherry tomatoes and zucchini used in this recipe. Sweet corn, melons, and rhubarb are available during the summer months, while cabbage and winter squash, including pumpkin, are available in the fall and into December.
Deepwater Farms: Deepwater Farms started as a 400 square foot farm producing 30lbs of kale a week in 2018. They have sinced moved to a 10,000 square foot farm in Calgary and produce 200lbs of kale, mustard greens, arugula and salad mix. Deepwater Farms uses an aquaponics method of farming which means they grow their leafy greens and raise sea bass in a closed-loop vertical indoor farm. The fish waste is collected, upgraded, and used to fertilize the plants, which are grown indoors meaning we get the tasty leafy greens year round.
Rafferty Farms: Similar to Deepwater Farms, Rafferty Farms is a vertical aquaponics farm near Okotoks, which means we can get fresh basil year round! They have been in operation since 2015, and expanded to a 7,000 square foot space in 2019, allowing them to be more innovative with their vertical farm. Growing vertically in long rows allows Rafferty to maximize their growing space and incorporate sustainable energy use, water capture and conservation.
Looking for more grill recipes?
Check some of the other great grilling recipes we have!